What Do I Know About Luxury Travel – Jan Turley
This is a good question to ask. Have I just learned about luxury travel from the internet? …NO!!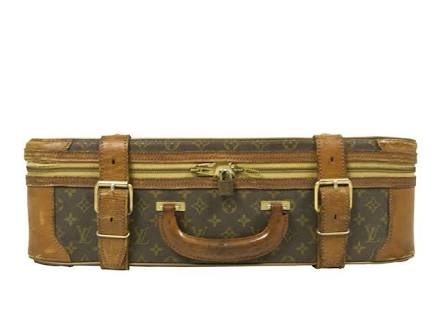 I have been to Paris, England, USA, China and Fiji over 40 times and loads of places in between.
I used to travel the world 4 times a year in search of the latest fashion trends I could then convert to work for the Australasian market.
Travelling from New Zealand to anywhere in the northern hemisphere is a real trek.
I can remember when it was a 5 stop trek to London via Honolulu, LA, Athens, Middle East and 40 hours later arriving in London
These days it's so fast with the big Boeing 777-300 that can hold 624 passengers and do one 17 hour trip from Auckland to Dubai then there is a short hop to any European destination from there.
I always travel with the obvious passport, money, credit cards, spare undies and toothbrush just in case there is a delay, and of course I have an OBR merino travel wrap rolled up in my purse ready for when it gets chilly on the plane.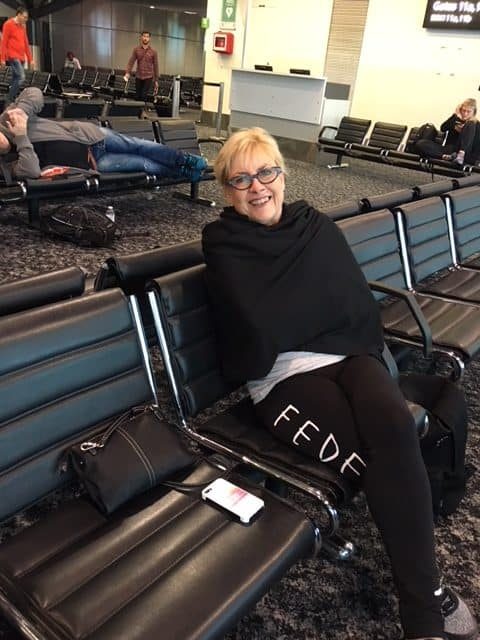 Melbourne airport
What would I put as the top 4 spots I have been to? Some of these I have been to many times but imagine you only had just had a day in each……
PORTOFINO

CASSIS

FLORENCE

OCTOPUS RESORT
PORTOFINO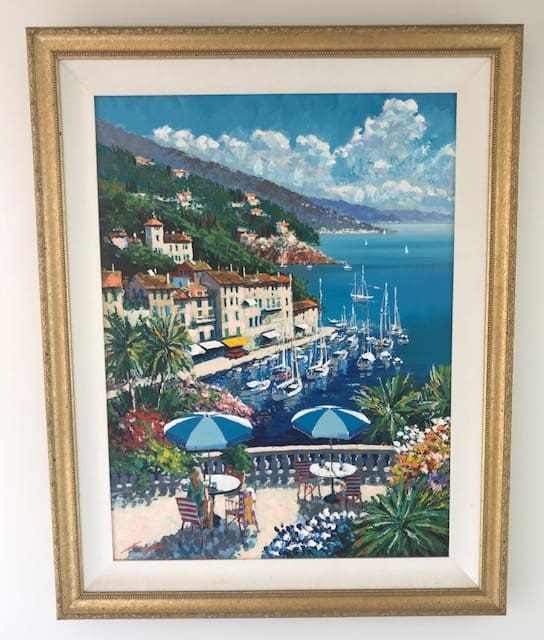 I have this painting on the wall to remind of PORTOFINO. It is an original and I pinch myself daily as I remember this gorgeous spot.
https://www.amoretravelguides.com/blog/portofino-italy-most-places-you.php
I was staying in the Hotel Canobio dei Doji just a short drive away in Camogli which is perched above the Mediterranean with its aquamarine water that seemed to sparkle all day. Just below my hotel was a private entrance to a huge flat rock where I had my breakfast served by a waiter. I was alone on this rock and it really felt like paradise.
Hotel was small as most around there are. The suite I had was exquisite and I had to pinch myself ..I WAS AT THE MED!
I had driven from a fashion show in Milan down through the Italian countryside.
I drove from the hotel around the stunning coast past Santa Margherita to PORTOFINO. Boats of all colours and sizes were bobbing in the bay. Some of the boats were well over 100 feet long floating palaces.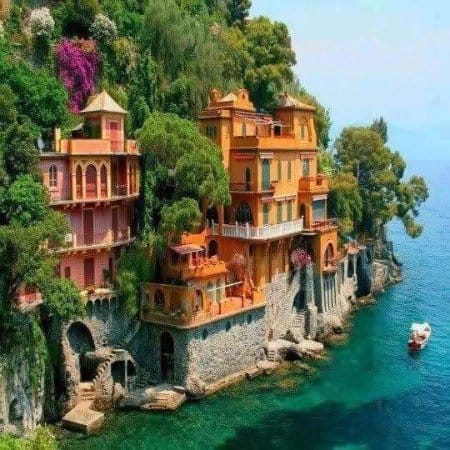 A wander around PORTOFINO fills the senses. Loud, effusive Italians with lots of arms waving gestures and elegant tourists from around the globe. PORTOFINO is a place of vibrant colour. From the bluest sea to the coloured building and the contrasting coloured boats.
Portofino is a fishing village on the Italian Riviera coastline. Pastel-colored houses, high-end boutiques and seafood restaurants fringe its Piazzetta, a small cobbled square overlooking the harbor, which is lined with super-yachts.
I walked A path that lead from the Piazzetta to Castello Brown, a 16th-century fortress.
Having a pizza in a restaurant in the side of a  cliff at Santa Margherita on the way back to my hotel made this day the top of my picks.
Silver service, a simple pizza and an Italian red wine……bliss…..of course I had one of my OBR merino travel wraps tucked up in my bag to put on if I got chilly.
CASSIS
A fast train ride from Paris to Montpelier and a few hours drive and there Cassis is perched on the edge of the coast in the south of France.Cassis is a Mediterranean fishing port. A chateau that is centuries-old overlooks this fishing port.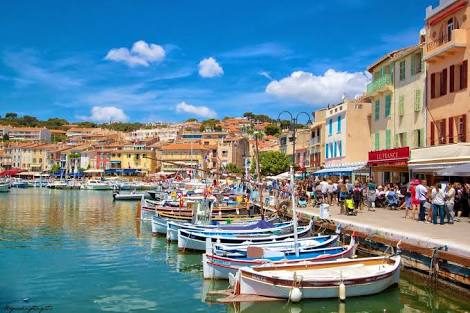 It is a popular tourist destination famous for its cliffs (falaises) and the sheltered inlets called calanques.
The hotel De Miers stretched down the cliff. Having a Bellini served on arrival while sitting in the sun looking at the view was sensational.
The day was really hot so a swim in the sea was needed. The beach was very pebbly. Umbrellas and chairs were everywhere but no one was in the sea. How strange thought me. So, I threw of my shoes with such relish and took a quick dash and a dive into the waters….it was unexpectedly chilly but refreshing.
A delicious dinner and once again silver service but simple food was served on my private balcony looking out to sea. A glass of local rose' and an OBR merino travel wrap used as a blanket over my knee for that little bit of comfort….a heavenly day.
FLORENCE
The city attracts millions of tourists each year, and the Historic Centre of Florence was declared a World Heritage Site by UNESCO in 1982. The city is noted for its culture, Renaissance art and architecture and monuments. It has numerous museums and art galleries. Because of Florence's artistic and architectural heritage, it has been ranked by Forbes as one of the most beautiful cities in the world.
A stay at the Sheraton Florence right in the centre of the piazza is very special. The hotel is no longer there. It has been replaced by the St.Regis.
It was really old with worn but gorgeous carpets and oh so quiet. The suites were enormous, the ceilings so very high.
The service was impeccable. Situated in the heart of Firenze was a perfect location to explore from.
The wifi may have been but intermittent but I picked it up sitting in the piazza having a delicious coffee.
Breakfast was delivered and the food was so sensational and the choices so large that no other food was needed for the day.
Every corner I turned in Florence had something of such beauty the list is endless.
It is so easy to get lost in the alleyways lined with the best leather coats in the world, the prettiest shoes and magnificent fashion and jewellery stores.
Dinner is a treat. The piazza comes alive and is filled with tables creaking under the weight of the food of all varieties and rich full bodied Italian red wine.
I felt very chic with my OBR merino travel wrap slung over one shoulder.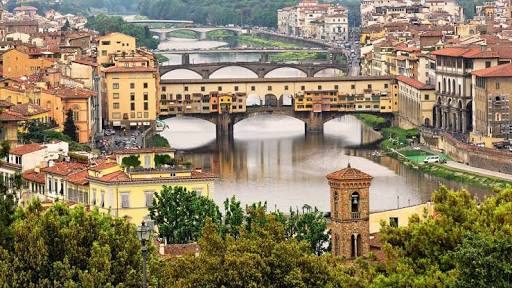 https://www.visitacity.com/en/florence
OCTOPUS RESORT…FIJI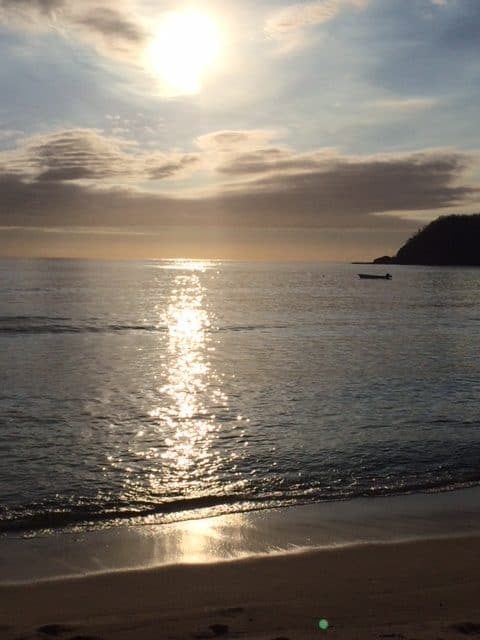 This may seem a strange one to add in after the luxury of Europe.
Remember I told you I believe luxury means different things to different people?
Octopus Resort is my favourite luxurious destination.
I have stayed in many hotels in Fiji from The Mamanucas to Denarau through to the Yasawas.
Octopus Resort is situated in the southern end of the Yasawas and is my top pick of wonderful choices in this people friendly beautiful land of contrasts.
Run solely by the local village it not only is the friendliest place I have stayed in Fiji but the quality of food, the superb outdoor bathroom in the bungalows and of course the pristine beach makes it my top pick.
Octopus is committed to help the local village. It has implemented an education programme which is seeing the young generation go to secondary school and also universities. This is an enormous achievement.
I am a Pisces and snorkelling there I am at one with the sea life. Coral is in abundance and the thousands of fish make me feel I have arrived in my heaven.
A break of a week or more at OCTOPUS resort is my sort of luxury.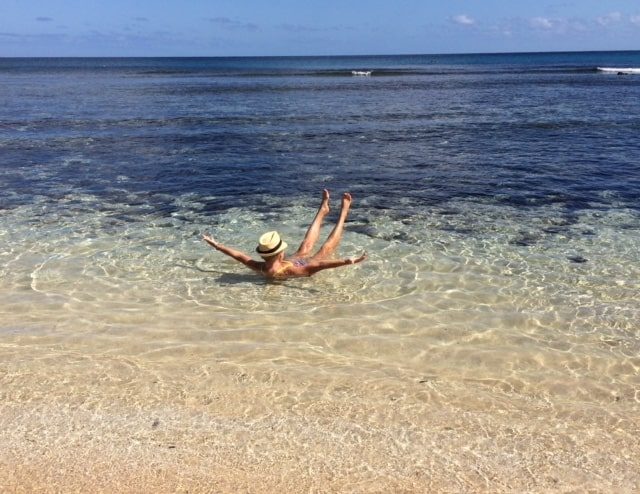 And you know, the evenings can often be cool with the wind off the sea so I take an OBR merino travel wrap and loosely pop it on just to add that little bit of warmth.
So until my next blog…..

Jan Turley
Jan Turley is dressed courtesy of OBR Merino and Baker St.  To See The Collection of stylish travel wraps and fashion made from 100% New Zealand Merino wool head to the OBR Merino website.