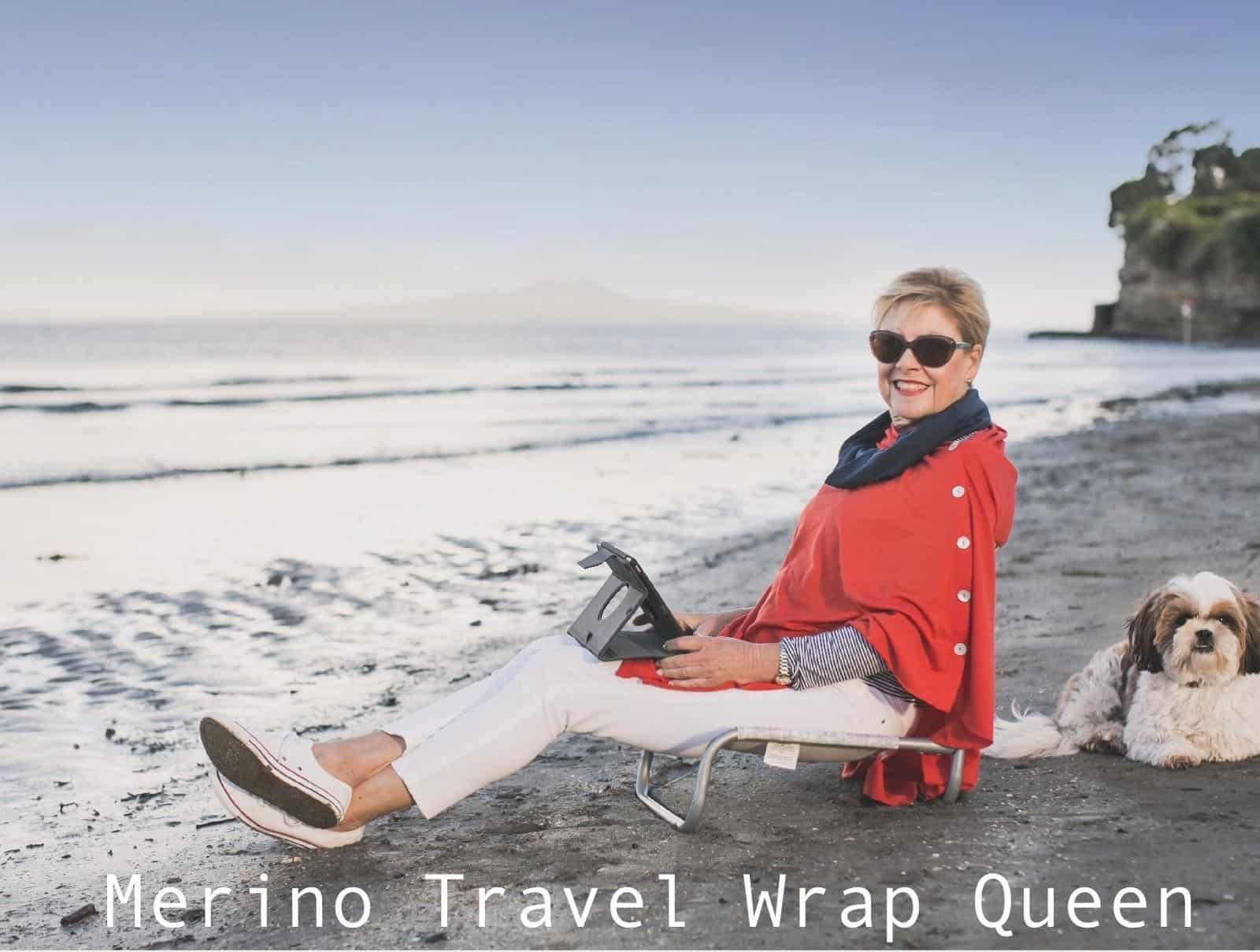 Hi.  I'm Jan Turley – The Travel Wrap Queen
I had been in the fashion industry for several years when about 15 years ago a piece of magic came across my desk.
New Zealand merino wool….as fine and soft as any fabric I had worked with.
Why do I call it magic? For the first time in my life I could wear wool next to my skin.
No itching, no scratching, just warm and light.
Why was that? The microns that make up this fabric (like the hairs on your head) are so very fine that they curl when they touch anything so don't prick like most wools.
Also, because  our merino is made in NZ it has no horrid harsh chemicals, is non itch and non pill, and has amazing wicking qualities.
Did you also know that NZ merino is sustainable?
The sheep also don't use our resources. They live high in the mountains and survive in both snowy and dry conditions.
At the time of discovering this magical fabric I was travelling around the globe looking at fashion trends 4 times a year. Suddenly it dawned on me, here was the answer to my travelling wardrobe woes.
It seemed the perfect fabric for travel because it doesn't crease and is washable.
NZ merino wool + travel = TRAVEL WRAPS…..perfect.
Our team has many many years of experience in the clothing industry. Quality is really important to us and we see every item before it goes to you, our customer.
Oh and by the way..our name stands for OneBeachRoad….it's where we work from.
We often get asked where the name OBR comes from.  One Beach Road is where our design studio is, right beside the sea where we are inspired to design luxury Merino garments for you.
We are at one with nature whether we are on the sea shore or in the mountains of Central Otago where the Merino sheep are bred. We have been making garments in New Zealand for over 20 years, and can take pride in the fact that they  are all 100% New Zealand made.
We are the number #1 experts in New Zealand made luxury merino products and have been selling our garments throughout New Zealand and Australia for over 20 years and now export throughout the world. OBR Merino owner and Director of Design, Jan Turley has been in the fashion business for many years and has used New Zealand Merino for most of that time, and the reason she is so passionate about it is for all the myriad qualities associated with it. As Jan puts it, "All Merino is not created equal and New Zealand made Merino wool is undoubtedly the best in the world." Our NZ Merino wool is 'natures performance fibre' and is a natural, renewable fibre that is warm without weight, odour resistant and durable.
NZ Merino fabric has excellent wrinkle recovery, resists soiling and is recyclable and bio-degradable which, in these very environmentally aware times, is even more important. Speaking of the environment, it is only New Zealand Merino you can be confident is 100% Merino with no ugly chemicals added. We use 19 micron Merino which is extremely fine so even softer than most. Jan and OBR Merino's philosophy is that they take pride in offering and delivering to their customers the best quality garments they possibly can.