100% New Zealand Made Merino Wool Products
Did You Know There Are 13 Ways To Wear Our Merino Button Wrap?
We invite you to leave your details. Our newsletter have exclusive offers
Featured Merino Wool Products
See How Many Ways You Can Wear Our Wrap
Introducing Jan Turley - Designer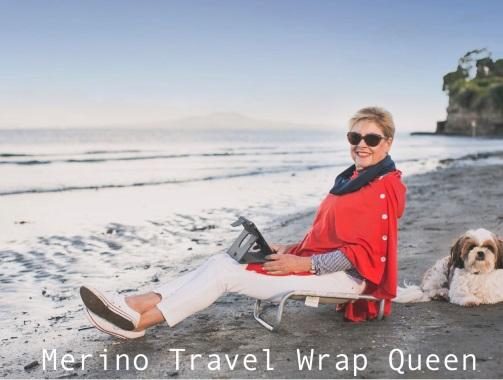 Jan Turley is the brains behind the Brand ORB Merino as well as the critically acclaimed BAKER ST brand, well known throughout New Zealand and indeed, the world.

Jan has been involved in the fashion industry for more years than she cares to admit however there is one secret that she shares willing with everyone, her travel secrets.
Jan runs her own travel blog called TRAVEL IN STYLE where she shares all of her adventures tripping across the globe, all the while looking fabulous in OBR Merino travel wraps and baker street clothing.  Designed of course, by Jan herself.
Follow her blog HERE:
I have to thank Jan for her wonderful "Merino Wool Wraps." I recently returned from a trip to England and France which was amazing but definitely wet and cold. When you travel from New Zealand to Europe or North America during their winter what you'll find is although its wet and cold outside...inside they have the heat cranked up. You don't want to have layers and layers to strip off every time you go inside.What worked perfectly for me was a warm waterproof coat and a regular long sleeve top + a "Merino Wool Wrap." I took a red and black one. Outside I gathered my wrap into a scarf, not at all bulky, and inside I would arrange it back into a wrap changing the style according to what I was wearing adding a touch of class to my travel clothes. I wore them nearly everyday during my month long trip. They were also great on the plane. Small and light to pack but can give you that extra warmth if the plane gets chilly. Merino Wool Wraps have become an essential part of my travel wardrobe.
CAPES AND WRAPS
Our NZ Merino wraps, ponchos and capes are the new look in sophisticated glamour. Plush, luxurious and very soft.
ACCESSORIES
Stylish accessories to enhance and glam up any outfit. Perfectly natural against the skin. Stunning colours available. 
FASHION
Go to garments that complete your look. Practical and chic, NZ merino fashion designed to be worn everyday.
PLUS SIZE
Our styles are created for all women, because all women deserve the best.  Comfortable and stylish to suit every shapes.